Step 1:
Choose from one of the styling packages below and click the buy now button.
Step 2:
After you click the buy button, a style profile form will pop up before you can complete the checkout process. Fill out the form detailing your specific request, sizing and preferences. Submit the form and complete the checkout and payment process.
Step 3:
Within two days of receiving your request, a personalized shoppable outfit portfolio will be emailed to you complete with styling instructions and links to where you can purchase the items direct from major retailers. (see sample portfolio below)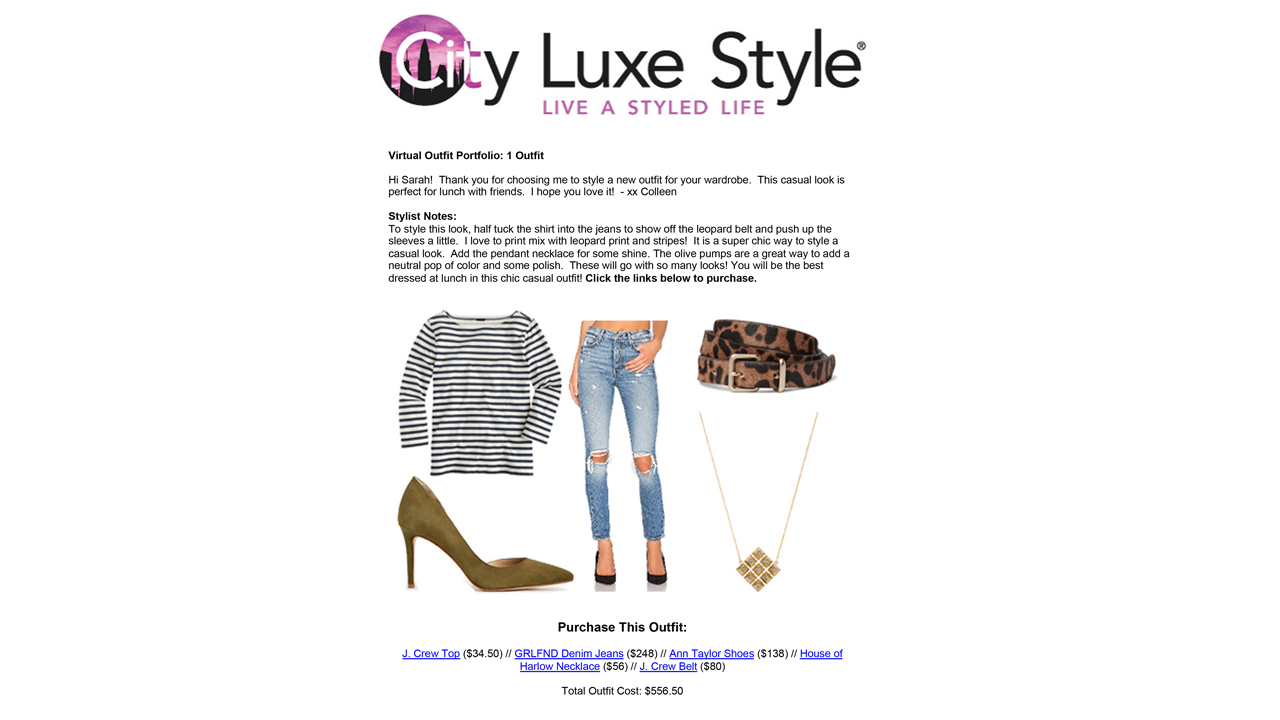 A portion of every sale will go to the Dress for Success Foundation. Dress for Success is an international not-for-profit organization that empowers women to achieve economic independence by providing a network of support, professional attire and the development tools to help women thrive in work and in life.
Frequently Asked Questions (FAQ's)
HOW LONG WILL IT TAKE TO GET MY OUTFIT? Once your order is processed your outfit portfolio will be emailed to you within 2 days.
WHAT WILL I GET? You will receive a personalized outfit portfolio based on your request. An outfit portfolio includes images, styling notes and direct links to where the items can be purchased. An example portfolio can be found here.
HOW WILL I BE NOTIFIED THAT MY OUTFIT IS AVAILABLE? Your outfit portfolio will be sent to the email address you supply at checkout. Please bookmark cityluxestyle@gmail.com to make sure it does not go to your spam folders.
HOW DO YOU KNOW WHAT I WANT? Before checkout you will be asked to fill out a style profile form that will give the stylist details about what your style is, what you are looking for and sizing information. The stylist will use this information to create your outfit(s).
WHAT IF I DON'T LIKE THE OUTFIT? If you do not like the outfit(s) you may provide feedback to the stylist and get 1 revision per request. If more than one revision is required, an additional expense of $14.99 per outfit will be incurred. ALL VIRTUAL STYLING SALES ARE FINAL. NO REFUNDS.
HOW DO I PURCHASE MY OUTFIT? All of the items in your outfit portfolio are shoppable. Direct links will be supplied that will be take you to the product page on the retailer's web site where you can buy it. The retailer handles the payment and fulfillment, including shipping. Please keep in mind that inventory of online stores changes constantly. We recommend purchasing the products in your portfolio as soon as possible to ensure product availability. We are not responsible if the item is no longer in stock when you go to purchase. You may use your one outfit revision if this occurs. After the one revision, you will incur additional charges (see above).
OUTFIT ORDER STATUS, SHIPPING & RETURNS Please check directly with the retailer(s) for order status and shipping information (including rates and tracking). Returns will be processed and handled directly with the retailer.
If you have additional questions, please submit a contact form.